Our Location & Region
The Rotorua district is located on the southern shore of Lake Rotorua in the Bay of Plenty region of the North Island of New Zealand. Explore and discover Rotorua's fascinating mix of Maori history, tradition and culture combined with its unique geographical and geothermal features. Rotorua is also the ultimate destination for the adventurer.
Explore and discover Rotorua's fascinating mix of Maori history, tradition and culture combined with its unique geographical features. Surrounded by the unmistakable smell of bubbling sulphuric geysers and mud pools, Rotorua is the geothermal experience of a lifetime.
Rotorua is one of the country's oldest spa resorts, being the centre of geothermal activity, and is fast becoming known as 'Nature's Spa of the South Pacific'. After a day's sightseeing or strenuous activity, visitors can relax with a soak in the healing waters of the geothermal hot springs, or totally unwind by choosing from a range of therapeutic spa and massage therapies.
Rotorua is also the ultimate destination for the extreme adventurer. Adrenaline pumping activities range from rap jumping down the face of a mountain, Zorbing inside an enormous air-cushioned ball, speeding downhill on the Rotorua Luge, tandem skydive at Rotorua Airport or challenge the rushing rapids of the Kaituna River.
The city centre is convenient and easily accessible. Rotorua provides an abundance of shops to cater for all and specialises in a wide range of cuisine including the traditional Maori feast (hangi), which provides a delightful mouth watering sensation.
You are in the spiritual heartland of the Maori people so to add a rich dimension to your Rotorua visit, be sure to catch a Maori cultural performance, where stories and legends are portrayed through a beautiful series of song, haka, and dance. Rotorua is truly fascinating.
Rotorua Lakes
Eleven major lakes sparkle in the landscape around Rotorua.  Their shapes have been formed and altered by catastophic volcanic activity in times past. The most famous being the Tarawera Eruption of 1886. Many of the lakes are steeped in Maori legend and history – you'll hear stories of phantom canoes seen gliding in the mist, of lovers who swam the lakes to secretly meet upon their shores, or of the notorious Taniwha – monstrous tribal guardians of the deep.
Popular with swimmers and boaties, the lakes are ringed by forest and farmland, but most are easily accessible to visitors. Most are cool, clear and some very shallow lakes, with some areas heated through geothermal activity.
If trout fishing on these or any of the associated rivers and streams, bear in mind that licenses to fish must be obtained before you go ahead – you can obtain a fishing license online at Fish and Game. There are sixteen lakes in the vicinity of Rotorua, however eleven are fishable lakes of varying size and depth.
Some of the many lakes
Lake Rotorua is sited within the city boundaries and is one of the largest in the country. Unlike its sister lake, Lake Taupo, it is shallow in most areas and some places are quite warm owing to ongoing geothermal activity.
The Blue Lake (Tikitapu) is one of the closest lakes to Rotorua. It's clear blue waters are popular with water skiers, swimmers and boaties. An easy walking track circles the lake taking in beautiful beaches, native bush and the Whakarewarewa Redwood Forest. There are good views over Blue Lake and the nearby Green Lake (Rotokakahi). The Green Lake is 'Tapu' or sacred, Things or places which are tapu must be left alone, and must not be approached or interfered with.
Lake Tarawera is the largest of a series of lakes which surround the volcano Mount Tarawera. It is home to a range of eels and trout. In summer it is popular for both fishing and water sports, and  are a number of hot water beaches.
Lake Okataina is a sprawling lake shaped similar to an octopus. The Lake Okataina Scenic Reserve is a pristine natural area with native bush down to the waters edge. The reserve is rich in birdlife and contains fine examples of rimu, totara, rata and kahikatea (New Zealand native trees).
Lake Rotoiti is popular for water sports and fishing. The lake has a navigable water link with Lake Rotorua. Among important cultural, historic and scenic sites around the lake are Okere Falls Scenic Reserve and the Hinehopu/Hongi Track.
Lake Okeraka is conveniently located to the Blue Lake TOP 10 Holiday Park Rotorua and provides an excellent alternative for water skiing (with a ski lane), trout fishing, swimming and water sports. A recently completed board and lakeshore track is available for all in the family to enjoy.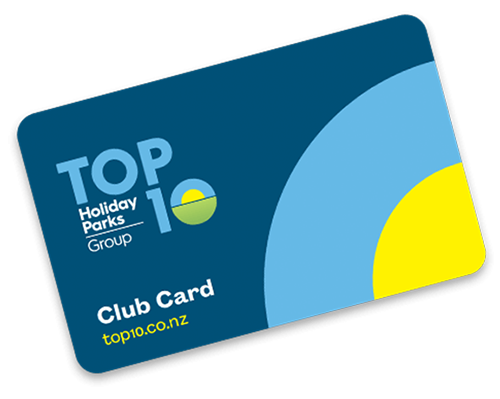 Join up and save!
Save 10% off and other benefits
Join the TOP 10 Club today and save 10% off* accommodation at all TOP 10 Holiday Parks, 10% off Interislander ferry travel, 10% off* accommodation at BIG4 Holiday Parks in Australia, PLUS over 500 regional benefits!
*T&C's apply.