What to See & Do
There are popular recreational reserves around Blue Lake TOP 10 Holiday Park Rotorua which provide excellent opportunities for bush walking, water skiing, canoeing, picnic areas, swimming, running, mountain biking, and trout fishing…. you name it!
For all trips, tours and excursions around the Rotorua region, please contact our friendly staff at Blue Lake TOP 10 Holiday Park Rotorua who can make all the necessary arrangements. Allow yourself plenty of time in Rotorua – there is more to do and experience than you realise!!
Red Woods Treewalk
This award-winning, eco-tourism walk is 700 metres long, spans across 28 suspension bridges, 27 platforms and takes about 40 minutes to complete. With the height of the walkway ranging between 9-20 metres, you are presented with a unique, birds' eye perspective of the forest below and treetops above. Redwoods Nightlights is one of New Zealand's top LED experiences that feature 30 exquisite lanterns designed by world-renowned designer David Trubridge.
Skyline
Famous for a reason, Skyline Rotorua is your ticket to an unforgettable holiday. Home to the ultimate Gondola and Luge experiences, there's a raft of activities to keep you entertained. From the thrilling Zoom Zipline, Sky Swing and Mountain Bike Gravity Park to out-of-this world stargazing, tranquil nature trails, wine tasting, dining and shopping experiences.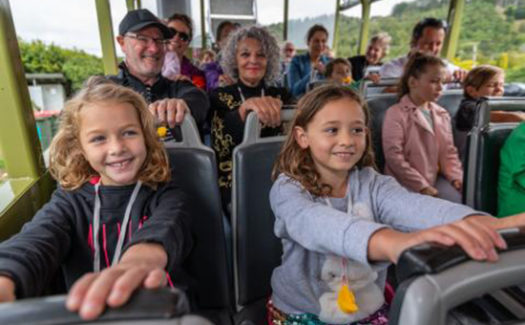 Rotorua Duck Tours
Combine learning about a historically significant area with the thrill of riding in New Zealand's only genuine operating WW2 landing crafts. Beginning in the heart of Rotorua, you'll see historic buildings, hot springs, geothermal wonders and more. Then, head out to Blue Lake, our most recreational lake, and Lake Okareka – nestled in the heart of a vibrant community – for two fun Splashdowns. The kids will love it!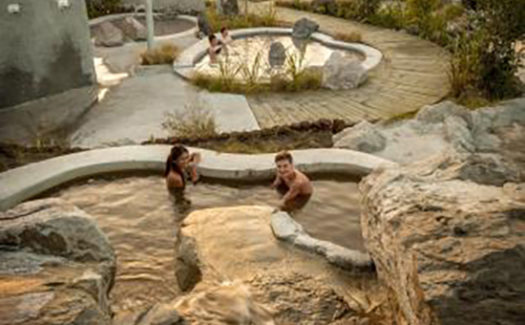 Hell's Gate
Hells Gate Geothermal Park and Mud Spa is Rotorua's most active geothermal park and only place to truly experience the unique geothermal mud that put Rotorua on the map. Experience a guided tour, unique mud bathing, hot sulphur spas, Miri Miri massage and more at Hells Gate! Complimentary interactive activities include woodcarving and geothermal mud foot pools for a soothing foot soak. With shuttle transfers three times daily from central Rotorua.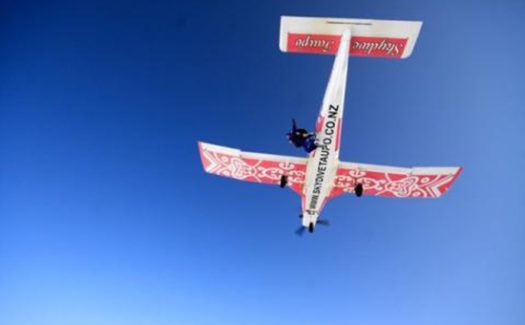 Skydive Taupo
Aboard their unique plane, you will take a spectacular scenic flight. Reaching height the door opens and the adrenaline kicks in. With your heart in your throat and your blood rushing through your ears, you jump… You'll free-fall at 200km/h! Make sure you keep your eyes open – you can now see from the East to the West Coast; from White Island to Taranaki; the gorgeous Tongariro National Park and the clear waters of Lake Taupo.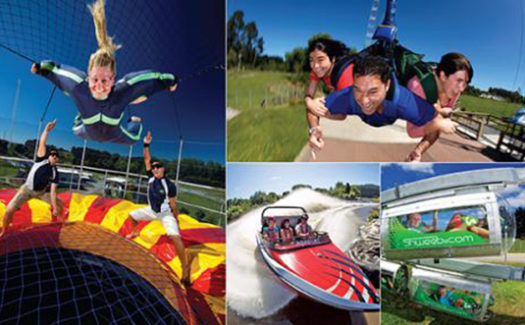 Velocity Valley
Launch into action at New Zealand's ultimate adventure hub! Pick your adrenalin buzz from the dare defying Swoop hurtling through the air at 130kph, to feeling G-force's akin to Formula One Racing with the Agrojet on a purpose built water course. Harness your inner superhero on the Southern Hemisphere's only Freefall Xtreme flying on a giant wind column, leap over the edge on the 43m high bungy and race on a world first human powered monorail track in a Shweeb.
River Rats
River Rats Raft and Kayak are one of New Zealand's most professional and well-known rafting companies. They have over 30 years experience and pride themselves on their safety-first culture and attention to detail. They offer rafting on the Kaituna (Grade 5) – with a 7 metre waterfall, Wairoa (Grade 5) – wild, Rangitaiki (Grade 3-4) – adventurous & beautifully scenic, and the Rangitaiki (Grade 2) – scenic and great for families.
Canopy Tours
Fly through the trees with New Zealand's only native forest zipline canopy tour, and enjoy a 3 hour wilderness experience in native New Zealand forest on the outskirts of Rotorua. Be amazed by the conservation story, and the threats to native New Zealand wildlife. The series of bridges, ziplines, treetop platforms and trails make for an experience not to be missed. During the tour you will be suspended up to 45m above the ancient forest floor, a place often reserved for those with wings.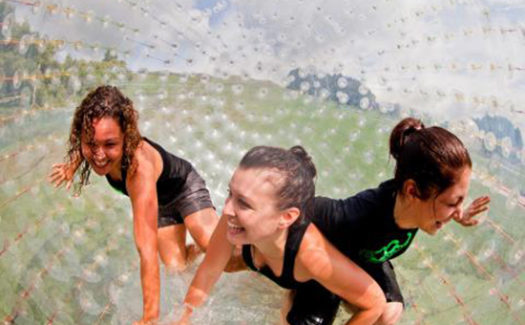 ZORB
Superman dive into a giant inflatable ball and roll down Mt Ngongotaha with ZORB, where the fun will have you laughing uncontrollably. Discover FOUR different ball rolling tracks – the world's longest zig-zag Sidewinder Track, the smooth 'n' fast double Straight Track, MEGA TRACK – the longest, fastest and steepest track in all the land, and the newest track; Big Air, our latest thrill ride. Ride with water or without water, the choice is yours!
Whakarewarewa Forest & Mountain Biking
From beginners to experts, with more than 130km of trails in the Whakarewarewa Forest, mountain biking in Rotorua is a must. Mountain biking access to the forest is possible from our Blue Lake TOP 10 Holiday Park – your Rotorua holiday park accommodation. We can offer a lock up facility for our guests mountain bikes – please ask our Reception team for access to this.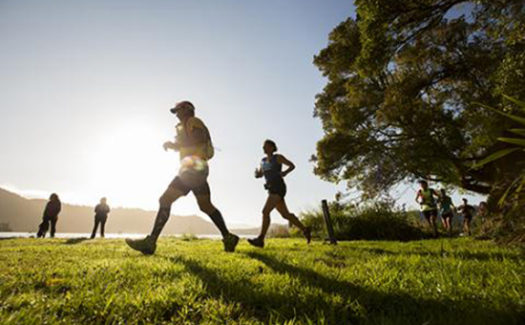 Blue Lake walk and Glow Worms
This beautiful walk is a 5.5km loop and takes roughly 1½ hours. You can start directly in front of the park and walk either way. There is a lookout point at the back of the lake where it is possible to view both the Blue and Green Lakes. Along the walk there are several spots to stop at and admire the view. Ask reception about the Blue Lake Glow Worms, well worth a nightly visit. We can even give you a Flash Light. For other walks in the surrounding Lakes District click here.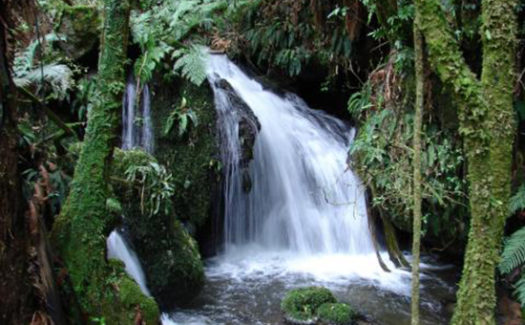 Buried Village
NZ's #1 visited working archaeological and heritage village showcasing stories and displays of the world famous Pink and White terraces, the 1886 Eruption of Mt Tarawera and resulting devastation of the Te Wairoa settlement. The village includes an award winning Museum exhibition, over a 1-km trail through archaeological sites and a very breath-taking short walk to the beautiful Te Wairoa waterfall, a 35m high falls that connects the sacred Green Lake through to the majestic Lake Tarawera.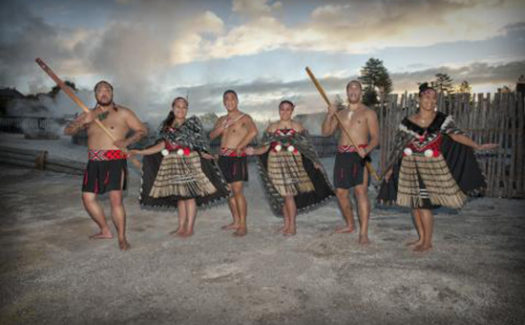 Whakarewarewa Living Maori village
Take part in the tradition of being an honoured guest at Whakarewarewa, The Living Māori Village. Discover the unique geothermal landscape of Te Whakarewarewa Valley. See the boiling hot pools and bubbling mud, and learn how the residents utilise and respect the ever-changing forces beneath the land. Enjoy a geo-thermally cooked Hangi meal and take part in the daily cultural performances, featuring the famous Māori Haka.
Mitai Maori Village
An evening at Mitai will give you an authentic introduction to Maori Culture. Learn about our history, carvings and ta moko (tattoo art). Be captivated by the displays of weaponry and combat, coupled with the grace and beauty of the poi dance, followed by a spine-tingling haka finale. Within the natural bush setting you will see warriors in traditional dress paddling a waka (ancient canoe), and the opportunity to see glow worms.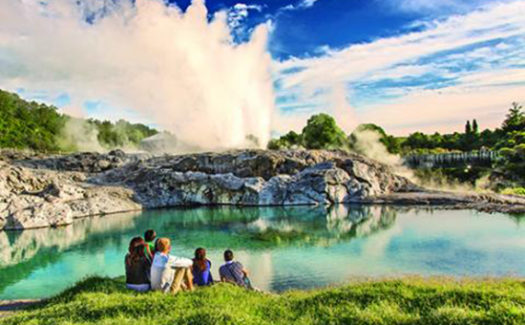 Te Puia
Situated five minutes from central Rotorua, Te Puia is an iconic destination for visitors featuring the world famous Pohutu Geyser, Māori cultural performances, live Kiwi, boiling mud pools, and native bush. Te Puia is also the home of the New Zealand Maori Arts and Crafts Institute, and acts as a kaitiaki (guardian) of the traditional Māori skills of carving and weaving for future generations.
Polynesian Spa
In the heart of New Zealand's geothermal region lies Polynesian Spa, a world-leading, natural mineral bathing and luxury spa retreat, on the tranquil shores of Lake Rotorua. Specialising in a range of health and wellness treatments, from Aix spa therapies to body wraps, massage and facials. Polynesian Spa also has a café offering a wide range of healthy treats. It is the perfect place to relax and enjoy nature's gift.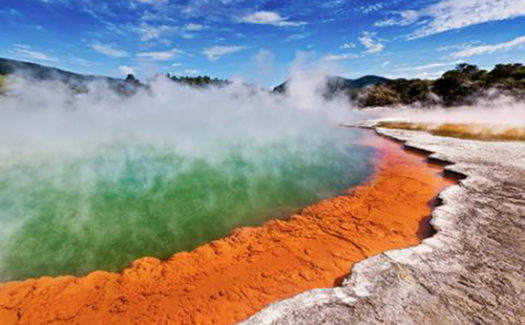 Wai-O-Tapu
Explore spectacular nature at New Zealand's most colourful natural volcanic park. Walks through this unique geothermal area take between 30 and 75 minutes and provide a wide range of amazing photo opportunities at features including the world famous Champagne Pool, naturally coloured hot and cold springs, steaming ground, expansive vistas, huge volcanic craters and sinter terrace formations.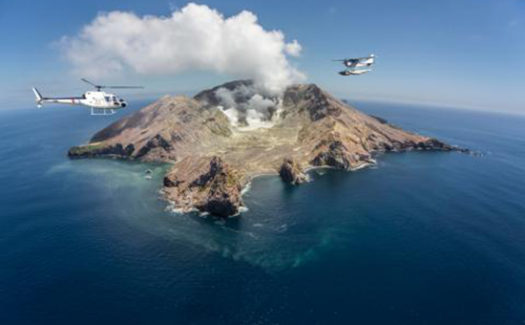 Volcanic Air
Some of the more popular flights available are the 'City Flight', 'Crater Lakes flight', including a city flight plus 5 major crater lakes including the Blue and Green lakes (approx. 15 minutes). The 'Mt Tarawera Volcano flight' – Mt Tarawera erupted in 1886, creating an 8km long volcanic rift along its summit, the magnitude of which is only appreciated when viewed from above.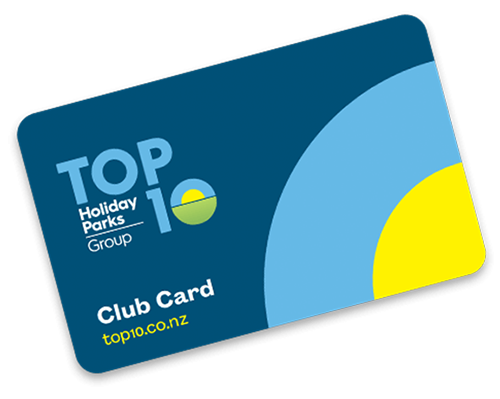 Join up and save!
Save 10% off and other benefits
Join the TOP 10 Club today and save 10% off* accommodation at all TOP 10 Holiday Parks, 10% off Interislander ferry travel, 10% off* accommodation at BIG4 Holiday Parks in Australia, PLUS over 500 regional benefits!
*T&C's apply.